About Us: News and Links
Communication Training 2019 Schedules
Private or Group
Enjoy the rewards of clear, effective speaking!
September 23 Group Accent Class: Level 1
Starts September 23, 2019
12 hours of basic instruction.
Mondays 6:00-7:30 pm

8 sessions: Sept 23, 30, Oct 7, 21, 28, Nov 4, 11, 18

.
Register in person no later than September 18, 2019.
October 21 Group Accent Class: Level 2
Starts October 21, 2019
12 hours of advanced instruction
Mondays 7:45-9:15 pm

8 sessions: October 21, 28, Nov 4, 11, 18, 25, Dec 2, 9

.
Register no later than October, 16, 2019.
Private accent instruction: All levels!
Start anytime!  
Individual Attention.
Customized programs!
Private accent instruction: Start individual instruction whenever you like.  Individual attention, customized programs!
Click for details about accent instruction.
Overview of all our speech training offerings
---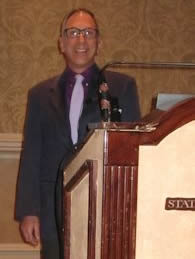 Everett Leiter lectures at prestigious ASHA conference
At the invitation of the American Speech-Language-Hearing Association (ASHA), Everett Leiter, Director of Confident Speech, presented in Las Vegas, NV, at the Health Care and Business Institute, April 11-13, 2014.

He spoke on communication training for professionals and businesspersons. He also presented a seminar on marketing speech-language pathology, audiology, and other communication training services.

ASHA is the national professional, scientific, and credentialing association for more than 173,070 members and affiliates who are audiologists; speech-language pathologists; speech, language, and hearing scientists; audiology and speech-language pathology support personnel; and students.

The annual Health Care and Business Institute is promoted by ASHA as the premier conference for speech-language pathologists who want to explore the latest clinical changes and business issues.
---

Confident Speech Receives 2014 Constant Contact All Star Award
Recognized for achievements using online marketing tools to drive success
February, 2015 – Confident Speech has been named a 2014 All Star Award winner by Constant Contact®, Inc., the trusted marketing advisor to more than 600,000 small organizations worldwide. The award, given annually to the top 10% of Constant Contact's international customer base, recognizes these select businesses and nonprofits for their significant achievements leveraging online marketing tools to engage their customer base and drive success for their organization. Confident Speech is one such exemplary organization.
"We're happy to be recognized by Constant Contact for achieving strong marketing results and engaging with our customers," states Everett Leiter, Director.  "We send out our periodic newsletters using Constant Contact's platform. As a result, we are able to provide informative information about communication and about our communication training services."
Read more!
---
Confident Speech e-learning programs
Everyone agrees! It can be tricky to pronounce some words in English correctly.  Avoid mistakes with some of the most commonly mispronounced words in English. Our affordable self-study e-learning programs teach you to recognize and correct these common errors!  Internet access is required.  PC and Mac compatible. Easy! Fun! Foolproof!
Each program: $4.70.
---
TheStreet.com interviews Confident Speech
December 22, 2006 - "Voices Carry," a feature by columnist Danielle Sonnenberg, quoted a number of accent modification trainers and their trainees. Confident Speech director, Everett Leiter, was interviewed about this training techniques. Both he and a past trainee were quoted.
According to people interviewed for the article, improved English pronunciation often translates into a competitive business advantage when a speaker connects with greater ease with clients and communicates more clearly with a work team.
A past trainee of Leiter's stated that he now speaks more clearly without the constant fear of being misunderstood.
---
Confident Speech director gives "Master Clinician" Lecture
December 13, 2006 - Brooklyn College's Speech Communication Arts and Sciences Department invited Confident Speech director Everett Leiter to present a Master Clinician lecture on "Accent Modification for Adults Who Speak English as a Second Language."
The lecture was attended by faculty members of the Brooklyn College Speech Communication Arts and Sciences department and supervisors of the speech and audiology clinic.
Brooklyn College is one of the most highly respected university programs in the New York area for training speech-language pathologists and audiologists. Confident Speech is honored to have been recognized as one of the leaders in the field of accent modification!
---
AmedNews: Doctors seek clearer English
"Physicians say effective communication boosts their self-confidence, eases their interactions with colleagues, and improves patient care." So reads a headline for an article in which Everett Leiter, director of Confident Speech, and one of his past trainees were featured.
The article, "Accent on clarity: Doctors seek classes to Americanize their speech," appeared in the September 18, 2006 issue of the American Medical News, a publication of the American Medical Association.
Everett Leiter was quoted for his views on why accents are so persistent, and his trainee described benefits he received from the training.
The article describes various concerns that physicians have about the clarity of their pronunciation. One physician said that it could be a distraction to the patient-physician relationship. Others were worried about the possibility of being misunderstood by patients if their pronunciation, voice, and stress patterns differ dramatically from the usual American patterns.
---
Accent modification for medical professionals
Now, Confident Speech offers a unique pronunciation program designed specifically for medical professionals. This training program teaches you clear pronunciation of American English, while concentrating on hundreds of words, sentences, and expressions you are likely to use daily in your practice of medicine.
If you are an international medical graduate and your first language is not English, this program will enable you to make yourself understood more easily. You will accurately produce the consonants and vowels of American English, as well as the characteristic rhythm and voice intonation. Contact Confident Speech for more information. (212) 929-0384.
---
Read what Weekly NY Japion had to say about Confident Speech.
In Japanese, with English translation.